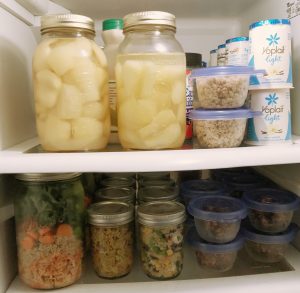 What are your goals for 2018?  Lose weight, eat healthier, spend more time outdoors or just stay out of the kitchen?  We have been meal planning/prepping for about a year now.  Why meal prep?  It not only saves time it getting out of the house in the morning it also helps you make better food choices.
Most of our shopping is done at Costco, Ralph's and Target.  So any or all ingredients can be found there.  We prefer to put the food in jars because it helps keep it fresh longer as well as it is more streamlined for our fridge.  I would also like to add I'm not the best at following recipes and have adapted them to our tastes.  With that said if you have any questions, comments or suggestions please ask in the comments.
Breakfast
For breakfast and/or snacks we have protein shakes, granola with yogurt or protein balls.
Recipe for Protein Balls:
What you'll need…
4 ripe bananas
4 cups rolled oats
1 cup super chunky peanut butter (can also be almond butter or any nut butter)
drizzle with honey
1/2 cup chocolate chips
1/2 cup dried craisins
1/4 cup (1 scoop) your favorite protein powder
1 teaspoon of cinnamon
1 teaspoon vanilla
salt to taste
How to make….
mash up bananas in a large bowl
stir in the rolled oats, peanut butter, honey, protein powder, cinnamon and vanilla
add chocolate chips & craisins
refrigerate for an hour, allowing the oats to soften, plus it is easier to roll the balls once it is chilled
scoop out using an ice cream scooper or a 1/4 measuring cup and roll into balls
store in 1/2 cup ziplock cups or baggies would also work.
Makes about 18 balls and will last in the fridge for about 2 weeks.  If not eaten before hand.
Lunch
For lunches Mike tends to get board with the same thing everyday.  If you don't you can make a larger patch for the entire week.  My go to is definitely the buffalo chicken and taco salad bowls.  The key to the added the ingredient to the bowls is to put the wet item on the bottom and then dry on top.  When you dump it into a bowl everything will mix together nicely.  The Indian style curried rice with shrimp was really something to use up some shrimp.
Here are the recipes:
What you'll need for the buffalo chicken bowls…
3 Costco frozen chicken breasts
1 cup franks red hot sauce
1 cup quinoa
2 cups chicken broth
carrots
celery
tomatoes
spinach or kale
ranch or blue cheese dressing
How to make…
put the chicken breasts with the franks red in a crockpot cook on low for 8 hours or high for 4
once chicken is cooked spread it (I like to use my Kitchen aid makes it so quick and easy)
cook quinoa in rice cooker with chicken broth or follow directions on package if you don't have a rice cooker (don't forget to rice or soak the quinoa first)
Cut carrot and celery into small pieces
Once everything is cooked and cut you open your jars and start an assembly line
1/2 cup chicken, 1/4 cup quinoa, handful of carrots, tomatoes and celery
fill remaining jar with spinach or kale
measure out dressing into a separate container so it is easier to grab and go
What you'll need for the taco salad bowls…
1lb ground turkey
1 packet taco seasoning mix
1 can black beans
1 can corn
tomatoes
spinach or kale
1 jar of salsa
shredded cheese
How to make…
brown ground turkey
add taco seasoning with water (cook according to the directions on the packet)
drain and rinse black beans and corn
once everything is cooked and ready start your assembly line
1/2 cup ground turkey, 1/4 cup beans, 1/4 cup corn, handful of tomatoes
fill remaining jar with spinach or kale
measure out salsa (use for dressing) and cheese for easy grab and go
What you'll need for the Indian style curried rice with shrimp…
1 cup C&F foods quinoa and rice blend (purchased from Costco but you could use any quinoa & rice blend)
2 1/4 cups water
4 oz/ jar roasted red peppers in oil
2 tsp curry
salt & pepper to taste
1 tsp dried chili
1 tbsp olive oil
1/2 chopped onion
1 cup precooked shrimp (remove tail and salt and pepper before adding)
How to make…
in a medium pot bring water to boil, add rice blend, red peppers, curry, salt, pepper, dried chili, olive oil, and onion
bring to boil, cover and reduce heat to simmer for 15 minutes
remove from heat, add shrimp, stir, cover and let stand for 5 minutes
let cool and then fill into jars
Snacks
Besides having apples or pears that can just be grabbed.  We like to buy the mixed fruit bowls at Costco and then cut it up and separate it into jars for a snack.  Of course the "crack almonds" from Nutrition of Beauty are also a favorite around here.
What you'll need for the almonds…
2 cups raw almonds
2 tbsp rosemary (can be fresh or dried)
2 tbsp kosher salt
1/4 tsp ground pepper
1 tbsp olive oil
1 tsp cayenne pepper
honey (drizzle)
How to make…
preheat oven to 350
mix all ingredients together
bake on a parchment lined cookie sheet for 20 minutes
cool
store in air tight container or baggies
What you'll need for the southwest quinoa salad…
1 cup quinoa
1/2 red onion (diced)
1/2 red bell pepper (diced)
1 can black beans
1 can corn
1 cup feta
baby spinach, chopped
Dressing
1/2 cup fresh lime (about 2 limes)
1/4 cup red wine vinegar
1/4 cup olive oil
1/4 tsp cayenne pepper
1 tbsp cumin
salt & pepper to taste
How to make…
cook quinoa in rice cooker or follow directions on package if you don't have a rice cooker (don't forget to rice or soak the quinoa first)
let quinoa cool
make dressing by whisking together all ingredients
put in fridge until ready to use
after quinoa has rolled, add all ingredients in a large bowl and stir
fill into jars and enjoy
Hope this helps you plan out your week and achieve those goals!  If you make any of these please share with me with #stylelovetravel
xoxo,
Kim